Now, you may be asking yourself why these particular tools, especially water and an iron. A great technique to making paper look worn is to crumple it up. To do this, you must first mist your paper; just barely as you only need a little bit. After wetting the paper, ball it up in your hands, crush it up! Get those frustrations out! Now, you carefully unfold the paper and flatten it out, let it dry. Once the paper has dried you can take an ink pad or chalks and run it over the paper, those colors will bring in the hills and valleys of the crumpled paper. If after finishing all of this, the paper isn't as flat as you would like, grab the iron. Make sure you turn your paper so the front side is down on your table. Place a dishtowel on the paper, then place the warm iron onto the towel and begin to iron it out. Check regularly as you don't want to over heat the paper and take your hills and valleys out.
This particular article is based on creating tags that can be used for an embellishment within your scrapbook. First, pick a paper that coordinates with your page you will be working on.
Next, you get the emery board and start sanding all over your paper, it's okay if you tear it a little as it's to look old and worn.
You can already see the difference in the paper. Next, you would trim the paper to fit your tag, as the base of your tag should be made from cardstock. Once you have your background paper adhered onto the tag, you can begin placement of what you want to add.
For this particular tag, the theme is travel, so I chose a picture of an old building in Europe. I also decided to burn the picture instead of using a torn look. For the burning process, you should use a lighter, and stand over a sink - just in case it gets out of hand. This way, your extinguisher is well within reach.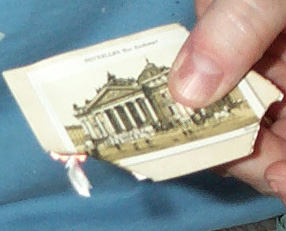 Blow on the flame when it gets to the desired edge, keep in mind fire does live on oxygen and will keep burning while being put out. Use a paint brush to lightly brush off the ash; this will not harm your photographs or scrapbooks. If you are still unsure about this, use the Archival Mist lightly on both sides and let dry completely.
After you have completed all of your destruction of the new, choose what other embellishments you would like to add to your tag, i.e. stickers, charms, ribbons, or fibers. I simply used a twine and a journey sticker. I did use pop-dots to raise the sticker off the tag for the 3D effect. Little tip-if you are using a sticker that you want to pop dot and not adhere directly to your paper, place a bit of baby powder on the back. The baby powder takes the stick out of sticker.
Remember that your first time may not always be perfect, that is where the old saying, "practice makes perfect" comes to play. Have fun with your experiments.
The finished product! The tag looks fabulous and I had a great time in the process. Remember, there are a lot of ways to give a shabby chic look to your tags and pictures. The experimentation in style is half the fun of scrapbooking, so go experiment!